HUNTING PACKAGES
Hunting Areas For Archery, Black Powder, Rifle, and Elk, Mule Deer and Black Bear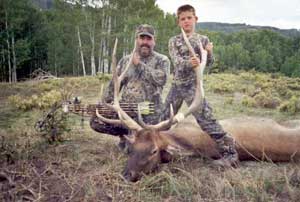 We offer hunts for every season beginning in August with archery and ending in December with our late rifle cow elk hunts. All hunting packages are five full days of hunting. Each year we have had successful harvests of mule deer, elk, and black bear in all of our locations. There are three areas for you to choose from: Game Management Unit's (GMU's) 66, 65, and 64. Fishing is available in all the areas for those who like to fish and hunt. Decide which area you would like to hunt in and the type of hunt you prefer. The type of hunting packages we offer are drop camps and DIY packing services. Drop camps are discouraged in late November and December due to snowfall in the high country.
GMU 66 is on all drawn areas as of 1998. You must submit an application to the DOW by the April deadline to be eligible for the draw. Bull elk licenses may be purchased over the counter for GMU 65 except for elk-only season and black powder . We can provide fully-guided moose hunts in area 66 for resident hunters who are lucky enough to draw. Early reservations are encouraged in order to book the best area for your hunt.
*Introducing Turkey Hunts this year in GMU 65. We finally are getting a thriving population of Merriam's Turkeys! Check with us for this exciting new adventure.
Choose your season and talk with us about which area would be best suited for you. We'll do our best to fit you with the perfect hunting trip. Below are basic descriptions of the areas in which we offer hunting services.
Private Treaty Guided Hunts are available but very limited
Please call (970) 209-2628 for details!
Game Management Unit 66 – Lake City
Our Special Use permitted area for GMU 66 is in the Gunnison National Forest, the Uncompahgre Wilderness and the Powderhorn Primitive Wilderness. This use gives the outfitter holding the permit the exclusive right to provide services in that particular area. Please check with the Forest Service district you are interested in to be sure you are dealing with the designated permit-holder for that area. ALL legal permit-holder's are registered with that district! Illegal outfitting is a real crime and punishable not only for the illegal outfitter, but also to the person who hires them. The Gunnison and the Powderhorn is located 9 miles east of Lake City on Road 788 – just at the summit of Slumgullion Pass. Our base camp is in the area of Deer Lakes and Mill Creek and sits at 10,000 feet. Hunting elevations reach up to 12,750 feet and most of the hunting is in remote country where the terrain requires access by horses. This is a very limited area as far as 4×4 use is concerned but we do offer some ATV and 4×4 hunts from our Base Camp at Mill Creek. Success from our Base Camp has been very high with bulls averaging over 300 score in the past two years. Vehicles are only allowed in portions of the National Forest where use is posted and permitted.
The Uncompahgre Wilderness area, (formerly known as the Big Blue Wilderness) is located west of Lake City. Our trail head is Independence Gulch and all our camps on this side are by horse back, as this area is 100% wilderness. No motorized vehicles of any kind are allowed in the wilderness areas. Our permitted use is over a huge area of GMU 66 where there is a lot of open country above timberline. We range from Rambuoillet Park over to Cannibal Plateau, Brush Creek, Devils Lake, Calf Creek Plateau and into the Powderhorn Wilderness. The elk and mule deer herds are at home in the tundra, dwarf willows and pine. The fishing is great and the photo opportunities are award winning! This is one of our trophy areas for bulls and timberline bucks. Our success rate is good for this rugged of a hunt and vast amount of country.
A real dream come true for many outdoorsmen is to hunt in the wilderness areas. This is all horse back and foot travel. For us, this is the Powderhorn Primitive Wilderness and the Uncompahgre Wilderness areas.
Game Management Unit 64/65 – Big Cimarron Ridge/Silverjack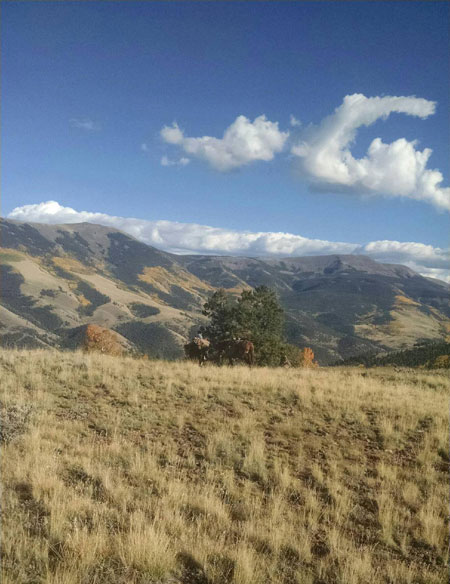 GMU 65 is in the Uncompahgre National Forest, just about half an hour southeast of Montrose in the Big Cimarron area. Prime elk, mule deer and black bear country. We utilize hundreds of acres of BLM combined with private ground as well as a high country forest permit. Elevations for this area range from 8,000 to over 11,500 feet. This is our most versatile use area due to our very large hunting area and wide selection of accommodations for you. We hunt the east side of the Cimarron Ridge to Owl Creek Pass, including Silverjack Reservoir, Monument Pass, Fish Creek, High Park, and Sawtooth Ridge. We also hunt the High Mesa country to the east of the Big Cimarron River.
We offer drop camps in remote areas for those who like to "get away" from everybody else and do their own thing. We also have the Coffeepot High Country Base Camp on the Cimarron with electrically heated rooms, hot showers and family-style meals. The high country guided hunts are very popular where we pack in on horses and mules and enjoy a more mountain-man type atmosphere. At these camps, you just hunt and relax. We do all the work. Just minutes down the road from Coffeepot High Country Base Camp on the Cimarron is our own private land overlooking the Big Cimarron River and High Mesa. Scattered with native grasses, oak, sagebrush, aspen trees and a small pond stocked with Rainbow trout, this is home to many of our hard working horses and mules. We use this small piece as a "safe-haven" and our guests are welcome to fish, hunt, or just kick back and enjoy the scenery. Our success rate in area 65 has been good with great years and not so great years. We have harvested some tremendous bulls and bucks as well as large bear, but remember this is hunting and all we can guarantee you is that there is game in the area and we will do our best to make your hunt successful and memorable.