VACATIONS
Trail Riding, Pack Trips, Fishing, Family Vacations
If you enjoy relaxing in the mountains, horses, fishing and having the time of your life, then let us give you an experience you'll treasure forever. We can take you to places you've probably only seen in the magazines and western movies. Feel like a real Westerner as you pull on your boots and hat, climb aboard your horse and venture into the Wilderness for a pack trip or trail ride. Our horses and guides are steady and dependable and will keep you as safe as possible. Fish in one of our many high country lakes or streams for native brookies or rainbow trout then fry'em up for supper over a campfire. Wake in the morning to the aroma of cowboy coffee brewing with bacon, eggs and pancakes for breakfast. Come and be our guest for a day or a week. Bring your camera and your kids, we'll take good care of it all! Look over what we have to offer, then give us a call and let us go to work for you.
Trail Riding
Choose from a handsome string of horses and go for a ride with one of our wranglers. We have some very interesting rides where you may catch a glimpse of a black bear sunning himself, or a fawn nestled down into the softness of the summer grass. There is always something of interest along the trail the is bound to catch your attention. We have different levels of rides for different levels of riders.

Pack Trips
We begin our pack trip season June 15 and run into September. These are high country pack trips where we will suit you to your horse the evening before we leave to be sure you are comfortable. Our goal is your satisfaction and safety. Our pack trips are designed to give you the best of the high country.
We have some of the finest camp cooks in the country and can guarantee you'll never go hungry with our good mountain home recipes. You'll nestle down in your sleeping bag at night in fully equipped canvas tents and dream of the next days' adventure, then after breakfast we'll break camp, pack up and head out for the day. Don't worry, we'll stop along the way for a little fishing, or one of our sack lunches for a break, or just to stop and smell the wildflowers. One thing about it, when you're on one of these trips, time just seems to stop and the world goes on by. We'll go from an elevation of around 8,000 feet and climb to almost 12,000 during our trip. Get to know the guides and wranglers throughout your stay with us and listen to some of the wildest stories and tales you'll ever hear. See if you can tell which escapades are real and which ones may have been embellished a little bit.
We can accommodate groups no larger than 8, and need at least two people in the party to schedule a trip. With individuals, we will put reservations together to make a group.
Fishing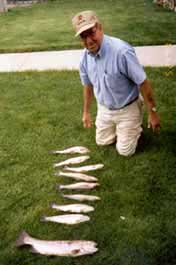 We have some really great fishing opportunities. High country lakes and streams are what we do best. If you prefer not to ride a horse to reach some of these areas, then you can fish in the Big Cimarron River, or try your luck at Silverjack Reservoir. We also have a private pond stocked yearly with Rainbow trout where you can enjoy yourself and look forward to an afternoon barbecue. We have fishing packages where you can just ride and fish for the day with lunch included, or you can schedule an overnight fishing trip complete with camping out for the night and plenty to eat.
Family Vacations
We have the perfect get away for the family. Come stay at the Little Big Horn Lodge at night and trail ride or fish during the day. Camp out under the stars for a night or two up in the high country where the echoes of the coyotes howling and the sounds of a running stream are what you'll hear mingled with the occasional nickering of the horses. Mix and match it all up so that you get a small taste of what the West is really all about.
Outdoor Vacation Rates
Trail Rides, Pack Trips, and Fishing in the Powderhorn Wilderness or the Big Cimarron country will provide your with endless photographs and memories. Experience the splendor of the first wildflowers of summer, or catch a glimpse of a fawn nestled in the forest vegetation. Lose yourself in the awesome beauty of the changing colors of the Aspen in the early fall. Stay at the Little Big Horn Lodge and enjoy daily fishing and trail riding. Whatever your desire you will surely find it in Western Colorado's finest high country.
Pack Trips
Trips are scheduled every other week, beginning Memorial Day Weekend through August 25. Cost will be based on length of trip and number of people in the party. Limit of 8 guests to a group. Typical packages are 4-days and 4-nights.
Prices begin at $250 per person per day/night.
All packages include wonderful family-style meals, camping gear, fully-equipped tents and a horse suited to you. You will need to purchase your fishing license. All pack trips will be conducted in the Gunnison and Uncompahgre National Forests and BLM area.
Trail Rides
| By the Hour | $15 per person |
| --- | --- |
| Half-day | $50 per person |
| Daily Rides (includes lunch) | $85 per person |
Fishing
| By the Day | $75 per person |
| --- | --- |
Includes a sack lunch. We take you horseback into some great fishing streams and high country lakes where the fish are just waiting for you. Enjoy a sack lunch in the high country. This is a very relaxing and enjoyable time if you like horses and fish. Or you can choose to simply "kick back" and fish in our private pond stocked with Rainbow Trout while looking forward to an afternoon barbeque.
| Overnight | $250 per person |
| --- | --- |
Includes 2 sack lunches, one supper and one breakfast. Travel by horse into the higher elevations of the mountains where you can fish to your heart's content while your guide sets camp for the evening and prepares supper over a campfire. Wake in the morning to the aroma of cowboy coffee, bacon, eggs and pancakes.
Corporate & Family Retreats
Stay in cabins provided by us and go fishing and horseback riding during the day. Or be adventurous and plan a pack trip with all the trimmings. Design your own retreat package.
Private Parties
Let us put together a package for you and friends and/or family.